Sometimes, you may want to limit or completely block apps from the internet on your Android phone. This could save data, reduce distractions, or prevent unwanted purchases. In this article, we will discuss 2 different methods you can use to block certain apps from accessing the internet for free and regain control over your Android phone data usage.
Why Blocking Apps from the Internet is Essential for Privacy and Security?
Our smartphones have become an extension of ourselves. We rely on them for communication, entertainment, and accessing information on the go. Many apps are designed to constantly connect to the internet to provide real-time updates, notifications, and syncing capabilities.
Blocking certain Android apps from the internet enhances privacy and data security. Some apps may collect sensitive information or track your online activities without your knowledge or consent. By restricting access to the web, you reduce potential risks associated with unauthorized data collection or malicious behavior.
Taking control over app access to the internet is not about being anti-technology. It's about optimizing your mobile experience by managing resources efficiently and safeguarding your personal information. So, let's explore some practical steps that will allow you to block apps from the internet on Android phones!
How to Block Internet Access for Specific Apps in Android for Free?
Not all applications require or deserve access to the Internet. But, it is important to know how to prevent apps from accessing the Internet on your phone:
Method 1: Restrict data usage
One of the simplest ways to block apps from accessing the internet on your Android device is by restricting data usage through the manage apps feature. This technique lets you control which apps can use your mobile data or Wi-Fi connection. To do this:
Go to your settings.
Find the "Manage Apps" or "Applications" section.
Select the app that you want to block from accessing the internet.
Locate an option called "Restrict Data usage".
Toggle OFF Wi-Fi and Mobile Data.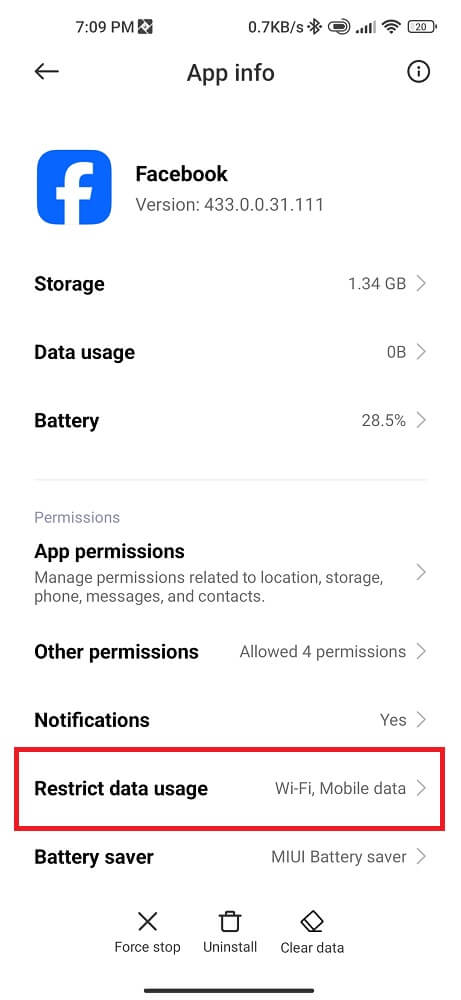 And voila! You have successfully blocked that app from using any internet connection in the background.
This method can be particularly useful if you have limited data plans or want to conserve battery life by preventing unnecessary background activity.
Method 2: NetGuard app
NetGuard is a fantastic app that allows you to control your Android phone internet access. The app is available on the Google app store and GitHub and empowers users to avoid certain restrictions and have more control over their data usage.
You can effectively block specific apps from the internet without affecting other functionalities on your device. But also prevent certain applications from consuming excessive data or accessing sensitive information without your knowledge.
One of the great things about NetGuard is its user-friendly interface. It provides a simple way to manage which apps can get internet by providing detailed insights into each application's network activity. You can easily toggle on or off individual apps' access as shown in the images below: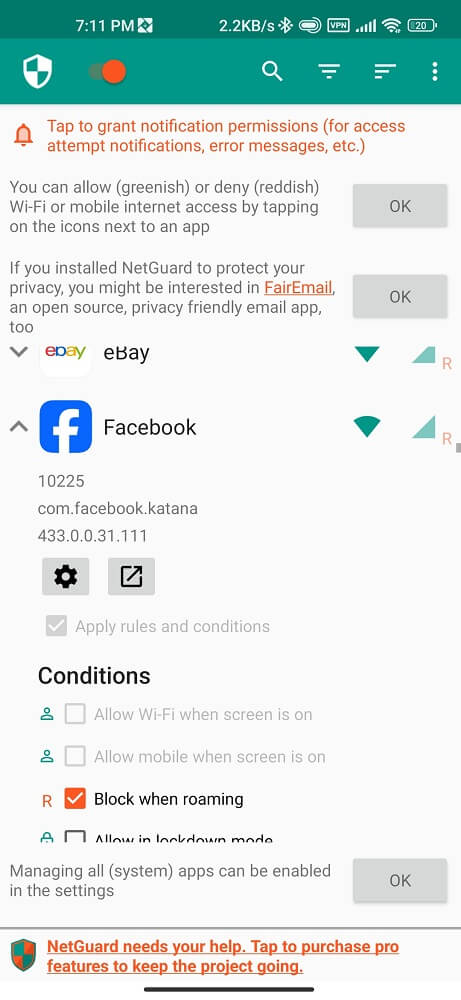 Moreover, NetGuard offers additional features such as logging network traffic, allowing you to analyze which apps consume the most data and potentially identify any suspicious activities.
By using an app like NetGuard, you ensure that only trusted applications have permission to go online. It gives peace of mind knowing that your personal information remains protected and prevents unwanted data consumption.
Also read: How to fix Looks like another app is blocking access to Google Play.
The Risks of Unrestricted App Access to the Internet
There are several risks associated with unrestricted app access. Many apps collect and transmit data about us, including our location, contacts, or browsing history. Without proper restrictions, these apps can freely send this data across the internet without us ever knowing.
Unrestricted app access can also increase vulnerability to malware and cyber-attacks. When an app has full access to the internet, it becomes easier for hackers and malicious actors to exploit any vulnerabilities within that app's code. This puts your personal information at risk and potentially compromises the security of your device as a whole.
Furthermore, unchecked internet access by apps can lead to unnecessary battery drain. Some apps constantly run in the background and consume substantial amounts of data even when you're not actively using them.
Unlimited internet access by certain apps may expose users to inappropriate content or harmful websites. Especially if your children using your phone, it is crucial to restrict exposure from accessing such content through various applications.
However, Android users need to proactively manage app permissions and restrict unnecessary Wi-Fi access where possible. By doing so, you can better protect your privacy and enhance device security against potential threats while conserving valuable resources like battery life and mobile data usage.
Best Practices for Managing App Access to the Internet
There are a few best practices that can help users ensure a smooth and secure experience. The first one is to regularly review which apps have permission to access the internet. This option can be done by going into your phone settings and then app permissions section.
Another best practice is to keep your apps up-to-date. Developers often release updates that include security patches or bug fixes. By keeping your apps updated, you can minimize the risk of vulnerabilities that malicious actors could exploit.
It's also worth considering using a trusted firewall app such as AFWall+ (Android Firewall +) by portgenix. These types of apps allow you greater control over which specific apps are allowed access to the internet.
Practicing good browsing habits can go a long way in managing app access. Be cautious when downloading files or clicking on links from unknown sources, as these may contain malware or other harmful content.
Conclusion
Managing app access to the internet on your Android phone is crucial for maintaining privacy, controlling data usage, and ensuring a smooth user experience. Following the steps outlined in this article, you can create a more secure digital environment and reduce any potential risks associated with unrestricted app access.