More than 5B users have downloaded WhatsApp from the Google Play Store, making it one of the most popular messaging apps in the world. However, there are times when those endless message notifications can become overwhelming and intrusive. Thankfully, there are smart ways to manage your WhatsApp conversations. In this blog post, we will explore five effective methods to stop receiving WhatsApp messages from unknown numbers without blocking them!
Jump to section
Editor Note: We based our steps on using a Xiaomi MI 10 running MIUI 14 on Android version 13. The process may vary slightly depending on your device.
Why WhatsApp users receive messages from unknown numbers?
The first reason why people receive random text messages from unknown numbers is contact synchronization. When we synchronize our phone contacts with WhatsApp, automatically adds anyone who has publicly listed their number in their profile. This means that even if you haven't personally saved a person's details on your device, that person can still contact you via WhatsApp.
Moreover, scammers and spammers are always lurking around seeking unsuspecting targets. They get numbers using various techniques, such as buying databases or using automated bots that generate combinations of digits. They might flood your inbox once they have your number with unwanted messages promoting questionable products or services.
Furthermore, some individuals may mistakenly type in the wrong number when contacting others on WhatsApp. It happens more often than you think! So don't be surprised if an unfamiliar person in your chat list asks who you are – it's just a case of mistaken identity!
How to stop receiving messages on WhatsApp without blocking?
Receiving messages from someone you don't know can sometimes be annoying or even disturbing. Fortunately, there are ways to stop receiving messages on WhatsApp without blocking the person:
Use the "Archive" feature
If you are overwhelmed with WhatsApp notifications but don't want to block a message completely, the "Archive" feature is your best friend. This nifty tool temporarily hides a chat without deleting it or notifying the other person.
To archive a conversation, long-press on it and select the "Archive" option at the top of your screen. The chat will disappear from your main chat list and be moved to the Archived Chats folder.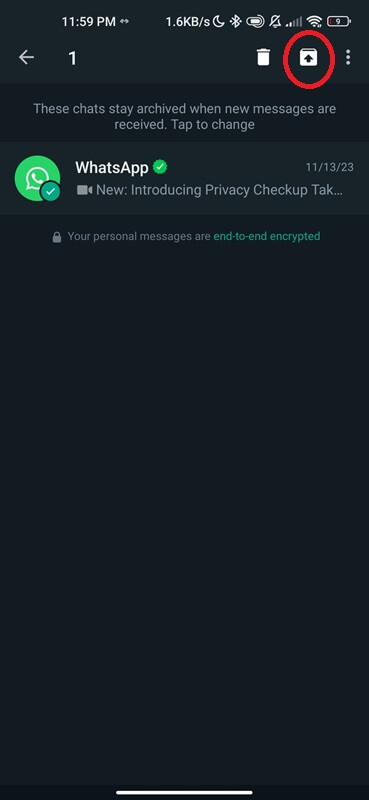 Don't worry, though – archived chats aren't gone forever! You can access them by scrolling to the bottom of your chat list and tapping "Archived Chats". From there, you can choose to unarchive specific conversations whenever you're ready.
Mute WhatsApp notifications
Muting WhatsApp notifications can be a lifesaver when you need peace from constant message alerts. Whether you're in an important meeting, enjoying a movie night, or want to focus on your work without distractions. Muting conversations on WhatsApp is a smart way to stop receiving messages from strangers and unknown numbers. The process is simple:
Open WhatsApp and go to the chat you want to mute.
Tap on the contact or group name at the top of the screen.
On the Contact/Group Info page, tap "Mute notifications."
You will be given options to mute notifications for 8 hours, 1 week, or 1 year. Choose the desired option.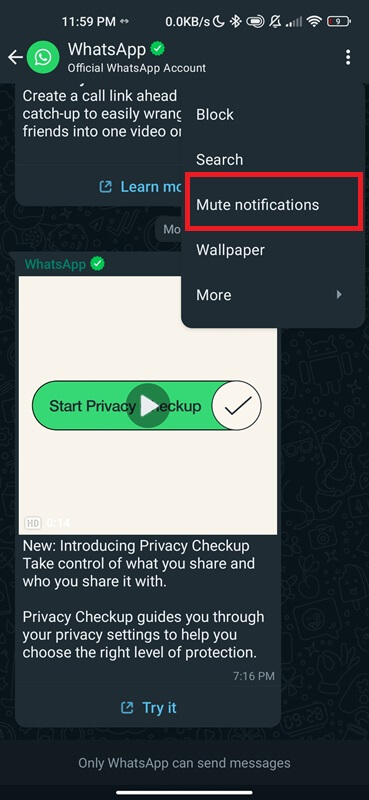 Alternatively, if you want to mute all conversations on WhatsApp. You can do so through your phone's settings:
On an iPhone:
Go to Settings.
Locate Notifications.
Select WhatsApp and toggle off "Allow Notifications."
On an Android device:
Go to Settings.
Click on Apps & Notifications.
Locate WhatsApp > App Notifications and toggle off "Show notifications."
Note: Muting a conversation will only stop notifications from appearing on your lock screen and notification center. The messages will still show up in your chat list, and you will receive them when you open WhatsApp.
Unmute WhatsApp Notifications
If you want to turn WhatsApp notifications back on for a muted conversation, follow these steps:
Open WhatsApp and go to the muted conversation.
Tap on the contact at the top of the screen.
Tap "Unmute notifications."
Alternatively, if you muted all conversations through your phone settings. You can turn notifications back on again by following these steps:
On an iPhone, go to Settings > Notifications > WhatsApp and toggle "Allow Notifications."
On an Android phone, go to Settings > Apps & Notifications > WhatsApp > App Notifications and toggle on "Show notifications."
Use Do Not Disturb mode
Personally, I use DND mode to avoid any distractions from incoming calls and messages. This feature also allows me to temporarily turn off all notifications, including those from WhatsApp, Instagram, and Facebook Messenger.
To activate DND mode on an iPhone, go to Settings > Do Not Disturb. From here, you can choose to turn on the Do Not Disturb manually or schedule it for specific times. You can also customize which notifications can come through during this mode.
On Android:
Unlock your device and swipe down from the top of the screen.
Locate the quick settings panel, and swipe left or right to find the "Do Not Disturb".
Tap on it to enable DND mode.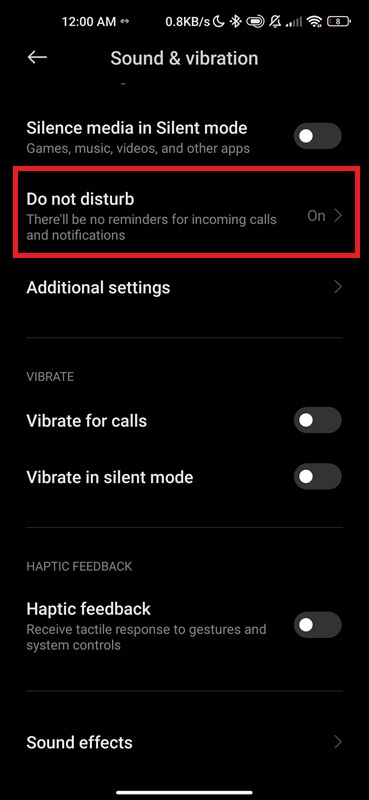 By using this method, you won't receive any notifications from WhatsApp when someone messages you. So strangers won't know if you've seen their message. This is another great option if you want to avoid random texts without blocking or turning off data.
Choose who contact you
Choosing who can contact you helps protect your privacy and helps prevent unsolicited messages from unknown callers. Limiting who can reach out to you reduces the risk of interacting with malicious or spam links from international numbers. Here's how to access the privacy settings in WhatsApp:
Open WhatsApp on your device.
Tap on the three dots (menu) in the top-right corner of the screen.
Select "Settings" from the menu.
Choose "Account" and then "Privacy."
Click on Privacy Checkup.
Start Checkup.
Click who can contact you.
Tap on silence unknown callers.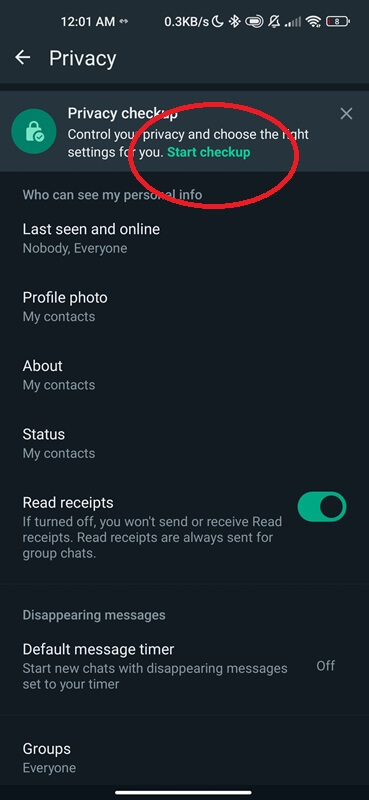 Restrict Data Usage
Turning off data allows you to prevent WhatsApp from using excessive mobile data in the background. This is especially useful if you want to prevent an Android app from accessing the Internet. However, this option is not recommended as it stops notifications, messages, and incoming calls from all WhatsApp contacts.
To enable this setting on Android devices:
Go to Settings.
Select Manage Apps.
Locate WhatsApp.
Click Data Usage and toggle off "Background data."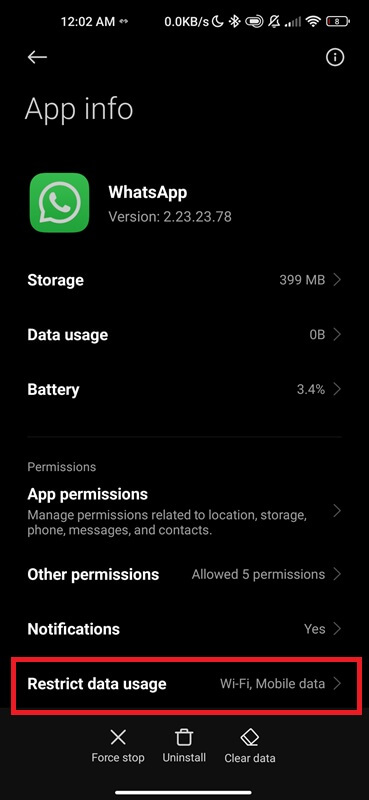 On iOS devices:
Navigate to Settings.
Tap Cellular.
Scroll down to find "WhatsApp" and turn off its access to cellular data.
Conclusion
There are various ways to stop receiving messages from unknown numbers without blocking them on WhatsApp. You can use the Archive feature to temporarily hide chats, mute notifications for specific conversations, or activate Do Not Disturb mode on your device. Additionally, you can limit who can contact you and restrict WhatsApp's data usage to avoid getting random text messages.
More helpful articles: