If LG is your favorite Android phone, you will definitely get bored with its default features, and that's where the LG smartworld app store comes in handy. Admittedly, LG smartphones and TVs, among other electronic devices, are unique, but the LG smart world makes their experiences even better.
Have you given your thoughts on changing your screen timer? How about the default theme, keywords, and font you bought your device with? You can always change such from time to time and make a futuristic view of your phone.
This article explores what LG smartworld is, how it is important to an LG device, and other key things about it. You will also learn from the write-up how to delete the app and some disclaimers about it.
What is LG smartworld Android app?
Before getting into details about how LG smart world works and what it means to your Android phone, let's first explore what it is. LG smartworld is a form of a store that comes as a pre-installed app in LG android smartphones.
This gives the phone a unique view based on the user's choice and is often different from the default settings android comes with. For instance, a complete download and installation of the LG smartworld store grants you access to various customization features, games, apps, plus themes, and many more.
Additionally, the LG smart world provides all LG users with exclusive access to this store, in which they can explore different features to improve their user-interface experience.
It is noteworthy that the app is exclusively available for LG users and not other android model owners. As such, you need to own an LG model to utilize the LG smartworld app store and its many features.
The good thing is that the brand has now expanded its provisions, and LG smart world can also be accessed using smart TVs. All integrated content and different provisions that warrant a satisfying customer experience are available in the app.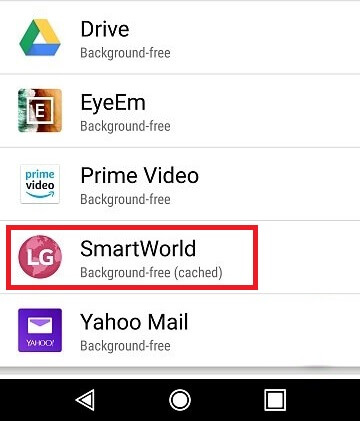 How is LG smartworld and com.lge.launcher3 related?
We have received many questions about LG devices from clients, and some revolve around how LG smartworld and com.lge.launcher3 relate. While LG smartworld is an app in the form of a store, com.lge.launcher3 is its default android launcher.
With this launcher, you can access various customization features, games, plus themes, keyword themes, fonts, and unique applications for your LG smartphone.
What are the key features of LG smartworld?
LG smart world and com.lge.launcher3 makes a good combo. As mentioned previously, your smart LG phone comes with the LG smart world app store pre-installed, and here are some key features your can expect to explore;
The KEYBOARD THEME allows you to personalize the keyboard and make it as colorful as you wish.
The HOME THEME allows you to customize your homepage, input icons, and create unique command lines for the Edit, Home, and Main Menu features.
The FONT feature allows you to explore the various font styles and types accessible by your LG device, setting just what you need for an Android phone.
Using PLUS THEMES, you can go ahead to customize your text keyboard, WhatsApp, and other typing platforms in the LG device.
LG smart world application models
As much as the LG smartworld application allows LG users access to many attractive options, it is noteworthy that it is not available for just any LG device.
Instead, there are specific models and resolutions an LG phone needs to have for the LG smartworld application to run on it smoothly.
Here are the specifications:
Phone resolution: the LG device's resolution must be HD, XVGA, WXGA, WUVGA, QHD, FHD, QVGA, HVGA, and HD/XVGA. These are the only resolutions of LG models that support LG smartworld, meaning that very old LG smartphones whose resolutions do not match the listed ones will not support it.
Android OS: LG smartworld will not run on any LG smartphone unless its android OS is any of the following; 2.1, 2.2, 2.3, 4.0, 4.1, 4.4, and 5.1. We hope that LG enables multiple OS to support its unique app store in the future, but for now, it's the stated ones that are considered worthwhile for the LG smartworld application.
Does one pay to use LG smart world app store?
Good things are often costly, and so are the wonderful features offered to you by LG smartworld. This means that the store may charge you sometimes, but rest assured that what you get in return is worthwhile.
However, you will be thrilled to know that there are a variety of unique features on the LG smart world that you can fully explore without paying a cent. What's more, the free features are not limiting in any way and are equally great.
Therefore, you can expect to explore multiple plus themes, font styles and sizes, and keyboard features for free, and they get better as you pay the stated fees.
However, if you are comfortable with the free features and feel like exploring them without paying for premium provisions, that's still ok.
LG smart world disclaimers
Most reputable brands will always spell out their basic operational guidelines in the form of disclaimers meant to help clients get a rough idea of what they are signing up for.
Likewise, LG has LG smartworld disclaimers, and familiarizing yourself with them helps you know how the app store operates. Here are some of its disclaimers:
Lg smartworld offers general information for customer awareness
The information that the company provides is readily accessible to all clients globally and for free
All the features lg smartworld provides are not available in one product, and there is a variation from one to the other
All LG smart world products are not available in all markets
Should a client experience and data reliance loss, it is at the company's hazard
LG will take responsibility for all losses, including direct and consequential losses, and even those that touch on data
LG SmartWorld offers an informational video that contains basic solutions and troubleshooting ideas while utilizing LG devices
The informational videos vary depending on the LG model, and it's the user's responsibility to confirm his model before implementing any of the suggested solutions
Can i get the LG smartworld app?
LG smartworld is a unique LG app store that grants users exclusive access to themed features, but one has to start it up. Usually, it comes with the LG devices as a pre-installed app, but in some cases, you might realize that your phone lacks it.
In such a case, you will have to start up the process by downloading the LG smart world app. The next section details how you can go about the download and installation process to start up the wonderful never-ending experience.
How to download and install LG smartworld app?
Downloading and installing LG smartworld is a simple process that happens hassle-free, provided you have access to the internet.
Once fully downloaded, confirm installation by clicking install, after which the app will be fully launched.
Once the download and installation processes are complete, click the three vertical dots on the top right corner of the app and select LG special apps and LG apps for a start.
The LG apps provide you with customized features and instructions to change your homepage, fonts, themes, and keywords.
Moreover, you can select the games and apps you want to present on your home screen.
All these are available on the free mode, while the premium features are found on paid mode.
How to delete the LG smartworld app?
Although some LG phones will come with LG smart world already pre-installed, it does not mean that they solely need the app to function. Consequently, you can delete the app when you wish.
However, be prepared to lose all the customized features you had applied on your phone, and the default settings will be retrieved. Proceed as follows to delete LG smartworld:
Access Settings from the main menu
Click the General option and proceed to Apps
Select LG Smart World from the list
Confirm the deletion by clicking 'Uninstall'
Conclusion
LG smart world is an app that presents LG android users with an exclusive application store, through which they can customize the themes, fonts, and general outlook. It also gives users exclusive access to games, apps, and plus themes only accessible to LG users. If you want to delete LG smartworld, access it from Settings and confirm the deletion.
See also