This article is focused on what is a CQATest app and its role in an Android phone. It also finds out if it is possible to uninstall the CQA (Certified Quality Auditor) test app when it appears on your phone.
Approval of any product is a vital step to ensure it delivers the intended purpose. With the drastic change in the high-tech fields, testing each new item before unleashing it ensures that does not harm the final user. And, the mobile phone industry is not left behind in this move.
To test if an Android phone meets designed standards, manufacturers use certain hidden apps including rilnotifier, configapk, and more to qualify each component of the phone and detect any virus available.
Some of these testing apps are not easily accessible by phone users, and nor can they be uninstalled. However, other phone makers allow access to these apps by pressing specific keys. For example, you can press the Volume Up or Down button along with the power button.
Table of contents
What Is CQATest Android App?
If you have a Motorola or Lenovo phone, you've probably encountered a CQA Test app appearing suddenly on your apps list such as the aasaservice. This should not worry you because the app also disappears silently as it came once it accomplishes its role.
So, if you are wondering how it came on your phone and what it does, here is a brief overview of cqatest app on Android.
CQA Test app is an abbreviation for Certified Quality Auditor. It is an in-house software app that checks the high performance of every Android component.
The app is mostly found in Motorola and Lenovo smartphones. However, it can also appear in other android devices abruptly to check if the phone components are all of high quality.
Unlike other applications, cqatest app runs smoothly and quietly on your Android phone without causing any issues. It mainly tests for weaknesses, glitches, and strengths, and assesses all the technical aspects of an Android device to detect any malfunction.
Moreover, manufacturers also use this app as a measure to make better models in the future. Therefore, the overall objective of the CQA Test app is to develop the upcoming devices and make them run smoothly.
Why CQA Test Suddenly Appears on Android?
According to many high-tech experts, there is no approved reason why a CQA Test app appears on smartphones; because the app is not designed to show on Android devices.
It is testing android applications used only by manufacturers and not users. However, many phone users report that the cqatest app appears randomly, causing various issues with their phone interfaces.
Therefore, here are some of the reasons why a CQAtest app may appear on your phone. Remember, these reasons are not approved; hence should not be an issue when performing them.
When upgrading your device's Operating System.
Resetting or rebooting your phone.
When trying to access a hidden user menu or performing any operation set for phone builders.
In some cases, the app might be on your phone but does not appear in the menu. To check if this phone-testing app is present on your Android, go to Settings, click on Apps then on All Apps. Search the app and it might show up in the search list.
How To Use The CQATest App On Your Phone?
Although the cqatest app is expected to function independently, you can also access the app through your phone dialer. Typing *#*#4636#*#* or *#*#2486#*#* will open the application automatically. Depending on the Android version you are using, you can see the following options: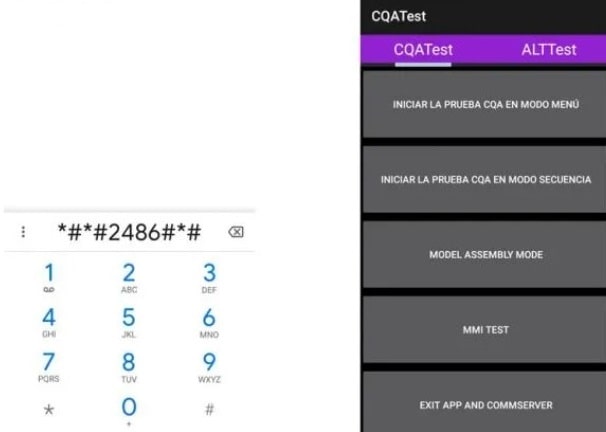 Sequence Mode
CQA Menu Mode
MMI Test
Model Assembly Mode
All the testing features are mentioned in the CQA Menu. This means you can run tests on your device and receive the report in the end. The report might indicate detailed information about the strengths or hardware issues if they are not working.
It is also vital to note that the CQA test app may not respond even after opening it. This is because the app is only accessed by the developers and not end-users.
The developers can disable the cqatest app on the smartphone such that it cannot give a valuable report when opened by users. Moreover, the app may misbehave on your end when there are no permissions granted to it. To resolve the issue, go to "Settings" then "All Apps" and enable permissions for the CQA Test app.
The 7 Most Important Issues To CQA Test App
Most Android device producers claim that the cqatest app should not cause any issues on your phone. However, some users complain about performance downgrades whenever they install the app on their phones. Such issues include;
Changes in the Android settings or user preferences.
Messaging service not responding faster or shutting down completely.
Notifications getting muted.
Notification drawer not opening completely.
Some apps not responding.
Factory Reset not working.
The Carrier hub keeps crashing or stopping
The CQA Test app could be on your phone even before you notice it. In this case, your phone will work perfectly, but start misbehaving the moment you open the app or install it.
How To Uninstall CQATest Android App?
Often, phone users will try to uninstall any strange app once it appears on their devices or tends to cause any performance downgrade. So, could this also apply to cqatest app?
First, this software testing application is only managed by the phone developer, and should not compromise the user's experience.
However, in case it starts causing issues on your phone, it is only recommended to disable and not uninstall it.
You can also revoke permissions granted to cqatest app and check the impact it has on your Android performance.
Uninstalling CQA Test from your device may cause your android phone to go into a boot loop. Therefore, if you start experiencing the above-mentioned issues once the app appears on your phone, you can use these tricks to resolve them:
Clear Cache and App Data
Clearing the app cache and data equals installing a new application on your device. It helps to erase all the previous data and set the CQA test app in its original condition. To resolve the misbehaving app, follow these simple steps;
Open the Settings menu.
Click on "All Apps"
If the CQA Test app is not on the list, search and click on it.
Choose the "Clear Cache and Data" option.
If the device does not work properly after this action, try the next trick, which is…
Disable or Force Stop The App
Force stopping or temporarily disabling the CQA test app will help you know if it is the one causing the performance downgrade of your device. To force stop the cqatest app on your Android, follow these steps;
Open the "Settings" menu.
Scroll down and click on the "Apps"
Click on the three dots at the top of the screen and choose the "Show system processes" option.
On the list of the running services, select CQA Test App and click on the "Force Stop" option.
Resetting Your Android Device
This should be the last step if the cqatest app is not disabled on your android phone. Resetting your phone will delete all the data and personal settings. Therefore, it is advisable to back up your vital information and applications if you are a root user.
Resetting your device involves two processes as mentioned below;
1. Factory Reset
A factory reset method involves restoring your device to a new format you bought it. The process does not delete the internal storage data but brings your phone back to how it came out of the factory. The factory reset process can be performed in the following steps:
Go to the Settings menu
Click on "Backup and Reset"
Click "Factory Data Reset" and follow the instructions outlined. Your phone will open as a new device.
2. Hard Reset
This is a comprehensive process that erases all the data, both hardware, and software. You can hard reset your phone from the bootloader menu following these steps;
Power off your Android device.
Long-press the "Volume Down" and "Power" buttons simultaneously until your phone boots.
Select the "Recovery" option by scrolling down using the volume button and selecting the power button.
Choose "wipe data/factory reset" and press the power button.
Select "Yes- Delete All User Data."
Finally, select "Reboot System Now." The issue or the cqatest app must be resolved once the device boots up.
Final Words
Dealing with any unknown application like com.sec.android.daemonapp or cqa test app in your smartphone should not be hard as thought. Whether the application is designed to be accessed by the developers or end-users, knowing some tricks will help you resolve the emerging issues effectively.
Therefore, though the CQA Test app is designed to be a hidden software that checks the overall performance of your phone, sometimes it may appear and compromise your user experience with your Android device.
Following the above steps can help you resolve all the issues caused by this application. However, if the tricks do not work, you should visit your Android phone service center to deal with the cqatest app issues.
Read more: