Whether you are an Android user or have a smartphone, you must have come across com.facebook.katana app and are wondering what it is. Some people have received pop-ups related to com Facebook katana, and they have ended up developing cold chills because they don't know what the code means.
Worry less; the katana app is neither a virus nor bloatware, and it will not expose your Android phone to malicious programs. However, you might still wonder what it is and even ask yourself if you can permanently delete the app from your Android phone.
Keep reading this write-up to know all about this app, including what you need to know about its deletion.
Quick Navigation
What is com.facebook.katana on Android?
First thing, you need to fully understand what the com.facebook.katana means before getting into the minor details about its function in your device. Simply put, the app is the code name for the official application for Facebook.
You enjoy watching facebook videos about pets, smart hacks, cooking methods, nature's beauty, etc., as well as making friends on Facebook dating, don't you?
All this would never be possible without katana.facebook.com.
Most devices come with the Facebook app preinstalled in them, and such have the com.facebook.appmanager or com.facebook.orca application by the time you start using them. How about phones that come without the Facebook app?
You will have the com.facebook.katana on your android files automatically downloaded when you install the Facebook app.
This means that whether you have a device with Facebook preinstalled in it or go through the download process by yourself, you will have a system app in your activity list.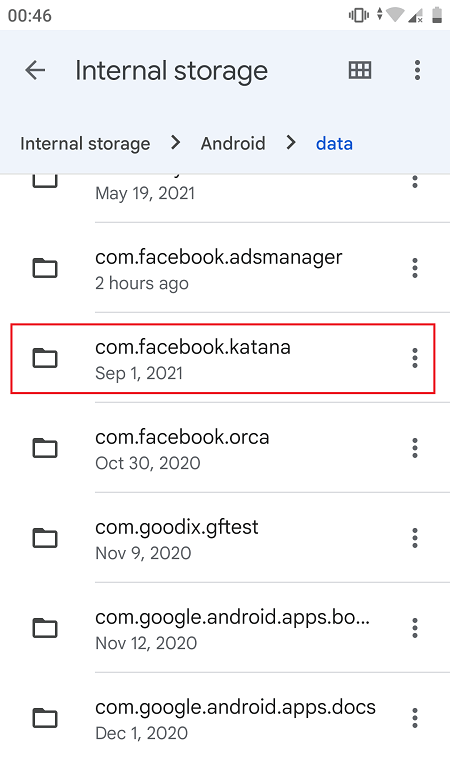 Is com Facebook katana app a virus?
Many third-party apps such as omacp are known to introduce or expose smart devices to viruses and malicious programs, and people are worried if the same is true for com Facebook katana.
Well, we are happy to inform you that com.facebook.katana is a safe application package, and it will not introduce your device to viruses nor expose it to them.
As such, you can rest assured of your device's safety while watching videos and video-calling friends using Facebook.
Is com.facebook.katana bloatware or spyware?
Other concerns about the com.facebook.katana android apps are bloatware or spyware. Bloatware is an application that unnecessarily consumes android phone resources, compromising the activities of other apps.
For instance, they take up more storage space and memory than they need, leaving only a little for other applications.
It is good to know that the application takes up space and memory but sticks to what the system allocates it, thereby not compromising the functionality of other applications.
Furthermore, you may wonder whether com.facebook.katana is spyware or one of such programs that spy on your activities and send the data to third parties.
You will be thrilled to know that the Facebook app and its application package katana facebook com are safe.
Although they communicate with Facebook servers and deliver information regarding the app's status, they are programmed so that they don't share your personal data.
What are the common issues associated with the katana app?
Each app that runs on your iPhone or smartphone device has an issue or two, and you are likely interested in knowing the major concerns associated with the Facebook app.
One thing you have to remember is that the codename consumes power as you use the Facebook app. Consequently, your battery is drained as long as you are using the app, and you might need to charge your device from time to time.
Secondly, the Facebook katana app and its office files take up memory and storage space. Of course, the amount of space and memory occupied by the app files is negligible.
But when added up to other apps' storage and memory, they become substantial. Still, you need to worry less as long as you ensure that you don't download any more apps suggested on FB or use the M Touch Facebook.
Should I remove the com Facebook katana?
Like many others, you might be worried about com.Facebook.katana, and wonder if it's worth keeping or if you should delete it. As seen previously, the Facebook app is not a virus, nor will it expose your phone to malicious programs.
However, you might still have a reason for seeking to delete the android app and its folders/files. It is worth noting that your Android phone does not need the com Facebook katana to operate, but it certainly needs it for the good functioning of the Facebook app.
Furthermore, you need to remember that you cannot delete the application on its own because it is linked to Facebook. Rather, you must permanently delete the Facebook app to delete the katana app as well.
What's the implication?
It is simple; as long as you still need the Facebook app, you cannot delete its associated katana facebook com application.
How to Remove the com.facebook.katana Android app?
Have you decided to permanently delete the com Facebook katana Android app? Proceed to our 4 easy step-by-step instructions to delete the system app from your phone;
Step 1: Delete the Facebook app from the screen
This option is ideal if your android phone did not come with the Facebook app preinstalled in it, and you had to download and install it by yourself.
Deletion from the screen is as simple as long-pressing the Facebook app and clicking on 'Uninstall' to do away with the app.
When Facebook is uninstalled, the com Facebook katana android app is automatically deleted as well.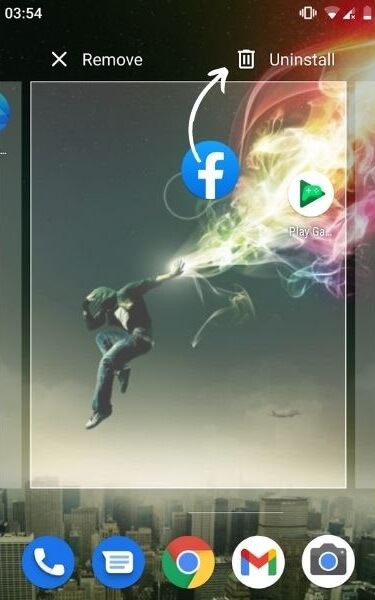 Step 2: Uninstall from Settings
If you downloaded and installed Facebook on your device but cannot delete it from the screen, you can access it via the Settings menu to uninstall it. This automatically uninstalls the Facebook.katana app. Proceed as follows;
Click on the main menu button on your screen and select Settings
Go to Apps
Locate and tap on Facebook
Confirm the deletion by clicking on 'Uninstall.' This permanently deletes the com.facebook.katana android app.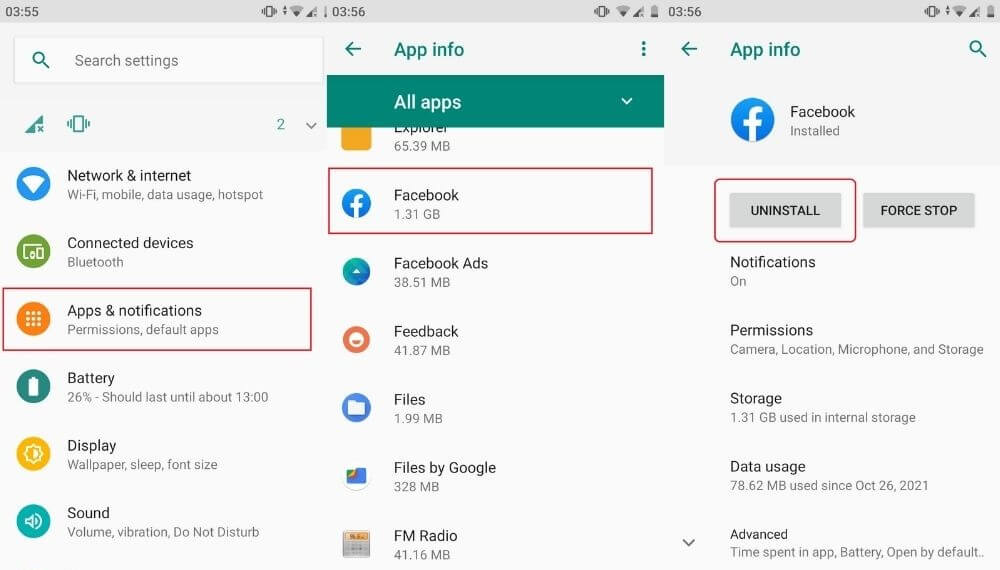 Step 3: Delete the app using the System App Remover
The System app removers help you uninstall apps that came preinstalled in devices and will be handy in uninstalling Facebook if your device came with it. Proceed as follows to execute the action;
Using a browser, download a System Remover Application of your choice
Launch the application
Using the search icon, locate the Facebook app
Confirm the deletion by clicking 'Uninstall.'
Both the app and the com.facebook.katana application is deleted.
Step 4: Uninstall the app by the system debug
System debug or the ADB route works well to remove preinstalled apps in devices. If such is your Facebook application, this method will be handy, only that it requires root access to the smartphone.
You can read the Android Rooting Guide for instructions about this and once you gain root access, proceed as follows to Uninstall the FB app;
Access Settings from the main menu, click System, then About Phone
Activate the phone's Developer Options by tapping on Build Number 7-10 times
Access Settings from the main menu and access Developer Options using a simple tap
Tap USB debugging to start it and proceed to Chrome or any browser to download ADB on your PC
Extract the downloaded zip file into a folder and open the folder
Press and hold the shift button in quick succession, then double-click on a blank location
'Open PowerShell window here' message appears, select it, and enter the command, 'adb devices'
Use a cable to connect the smartphone to the PC
Type the command line, 'adb shell pm uninstall –user 0 com.facebook.katana,' press Enter, and let the command run to delete the app completely. The Facebook app goes, and so does the katana facebook com app and its folders.
Final Words
Com.facebook.katana is the app or codename for the Facebook app. As such, it s behind everything you do on Facebook, and the experience would never be great without it. Although some people think that it is software, malware, and spyware. We are glad to inform you that the application and its files are safe and none of the stated programs.
Consequently, you can enjoy your Facebook experience without worrying about anything. If you would like to delete the com Facebook katana app, you have to lose the Facebook app as well. The write-up has detailed four approaches to deleting FB, and you choose which one works best for you.
See also