What does "Sent As SMS Via Server" mean on Android? In this article, I'll go into detail about the different reasons why your phone might be sending a message like that.
What does Sent as SMS via Server Mean on a Text Message?
When you receive or send a text message on your phone, it's generally sent through your carrier's SMS (Short Message Service) server. However, it's possible that you may see a message that says "sent as SMS via the server" on your Android.
This means that the text was not sent through your carrier's SMS service but was routed through another server.
There are a few things that might have caused this issue to happen. One possibility is that the person who sent you the message is using a third-party messaging app that uses its servers to send and receive messages.
Another option is that your carrier is experiencing technical difficulties and is routing messages through an alternate server.
If you regularly send messages that say sent as SMS via server, there's likely no cause for concern. However, if you only get occasional messages like this, it may indicate a problem with your carrier's SMS service or a change in RCS settings.
What does RCS Stand for?
RCS stands for Real-time Communication System. It provides a secure, private method of communication between devices. This is especially beneficial for business users who want to keep their connections confidential. This can be useful for coordinating work with customers, and more.
RCS allows users to better communicate in apps and mobile devices. The process makes it easier to share messages, photos, and videos as well as translate them into a wide range of languages.
What is a Short Message Service (SMS)?
SMS is a text message service that allows you to stay in contact with friends, family, and businesses. There's nothing better than staying connected and keeping up-to-date in your life, whether you're looking for a new way to keep in touch with your loved ones or it helps you stay on top of your to-do list.
With SMS, you can send and receive text messages from any Android phone or iPhone.
What is Server?
Sending an SMS via a server is sending a text message to a mobile phone using a server. The process usually involves an application that runs on the server, which connects to the device network and sends the SMS message to the mobile phone.
The advantages of sending an SMS via a server are that it is often cheaper than sending an SMS directly from a mobile phone and can be more reliable.
However, the disadvantages are that it can be slower than sending an SMS directly from a mobile phone and may only be available in some countries.
What is the Difference Between SMS and MMS Messaging?
While SMS and MMS are both methods of communication that use the cell phone network, they differ in a few key ways.
The Short Message Service (SMS) is a text-only service that limits messages to 160 characters.
MMS, or Multimedia Messaging Service, is a multimedia service that allows users to send images, videos, and other media files.
MMS has become increasingly popular as users have demanded more than just text from their phones. However, because messaging services uses the network to send data, it is often slower and more expensive than SMS.
What are the Benefits of Using a Server to Send SMS Messages?
Sending text messages via a server is not only a great way to send texts quickly and efficiently, but it can also come with the following benefits:
1. Increased deliverability: When you send SMS messages via a server, they are more likely to be delivered to the intended recipient than sending them directly from your phone.
This is because servers are connected to different networks and can ensure that your communication is delivered with speed and reliability.
2. More features: SMS servers typically offer a range of features not available when sending messages directly from your phone. For example, you can schedule messages in advance or send group messages to multiple recipients at once.
3. Greater control: When you use a server to send SMS messages, you have greater control over how the messages are sent and received.
It means that you can ensure that your messages are sent in the most efficient way possible and that they are received by the people who you want to receive them.
4. Cost savings: Sending SMS messages via a server can often be cheaper than sending them directly from your phone.
Why? Because servers typically offer discounts for bulk messaging and often have lower costs associated with sending messages than mobile networks do.
5. Improved security: When you use a server to send SMS messages, your text is stored on the server's secure servers rather than on your phone.
How to Stop Sent as SMS via Server on Android?
Android users can stop sent as SMS via server messages from being sent from their devices by following these steps:
1- Turn on RCS on both phones
If you're experiencing the "Sent as SMS via Server" error on your Android device, it's likely because RCS (Rich Communication Services) is not enabled on both devices.
As we discussed above, the RCS is a protocol that allows for enhanced features like group chats, high-resolution photo sharing, and video calling
In order to use RCS, both devices must have it enabled. Here's how to allow it on both devices:
Locate the Messages application.
Select the three dots in the upper-right corner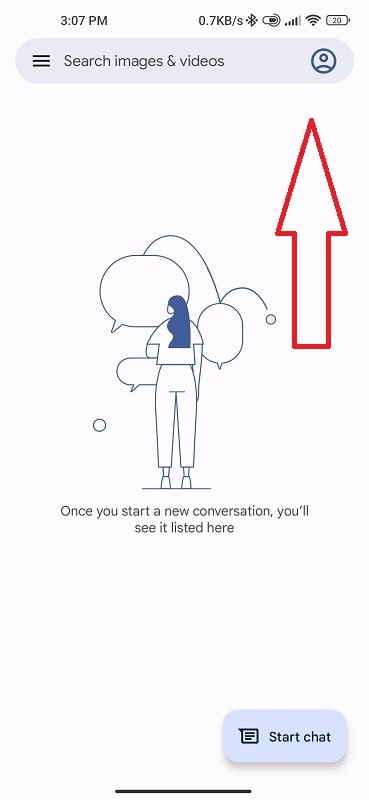 Locate Settings.
Tap Chat features.
Toggle on RCS.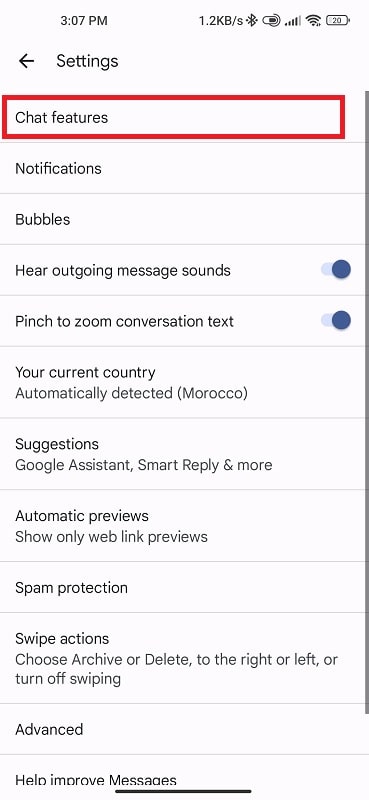 On the other device:
Open the Settings app.
Tap Messages.
Toggle on Enable RCS Messaging.
The way to ensure that you can send and receive RCS messages is to enable it on both of your phones. Once you have both devices enabled, messages should work as they should.
2- Turn on the "Show When Delivered"
The "Show when delivered" option on Android allows you to watch messages being delivered.
This can be useful if you're waiting for a response to a message and want to know if it's been received.
To enable the "Show when Delivered" option:
Open the Settings app.
Locate "Applications".
Select Messaging app.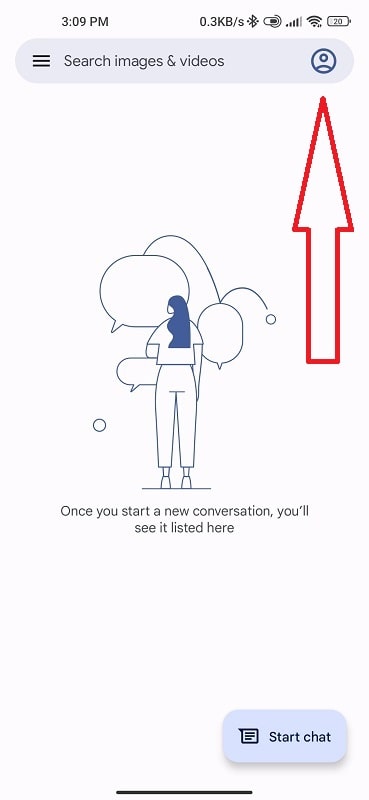 Click the "Chat Features" tab.
Click "Send Read Receipts."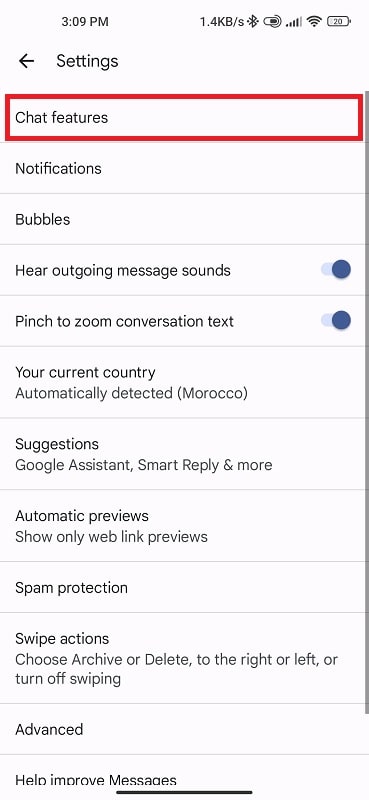 Once you've enabled the option, you'll see a checkmark next to any messages that have been delivered. This will let you know that the message has been received and may help determine if a response is forthcoming.
3- Wiping the Device's Cache Partition
When you wipe the cache partition on your Android device, it will remove any temporary files causing problems with the device. This can be a helpful way to troubleshoot any problems you may be having with your phone.
In order to wipe the cache partition, you may need to power off your phone and boot using recovery mode. Once in recovery mode, use the volume buttons to navigate back to "wipe cache partition" and select it.
Make sure you have the correct device selected and then continue to the next step. Once the partition has been cleared, reboot your device and see if that's solved the problem.
4- Enable Safe Mode
It's easy to enter Safe Mode on your phone. Once you're in Safe Mode, you can fix any issue with your Android.
If you're having trouble sending SMS messages, one possible fix is to enter Safe Mode and send a message from there.
To achieve this:
Press and hold the Power button.
Touch and hold Power off until.
Tap OK to restart.
Once in Safe Mode, try sending an SMS message from there. If it goes through, then you know that the problem is with one of your apps or settings.
5- Clear Android cache
This process can help resolve sent as an SMS via server error and speed up your Android by removing temporary files and data that are no longer needed.
When you visit a website or use an app. Your device saves some of this information in the cache so that it doesn't have to load it again the next time you use it.
Eventually, the cache becomes full of old files and data you don't need. This will not only slow down your device but also make it harder for you to send text messages.
To clear the cache on your Android device, follow these steps:
Find the Settings app.
Click "Storage."
Tap "Storage & USB."
Select "Internal storage."
Tap "Cached data."
Click "OK" to confirm.
Restart your Android.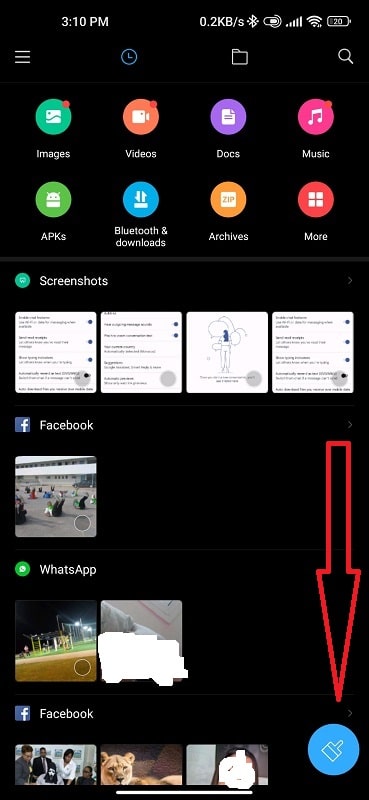 Tips: We recommend clearing the cache of the com samsung android messaging package name. This also can fix the sent SMS via server and help improve overall Android performance.
6- Reboot Phone
If none of the above fixes the sent via SMS server problem, you may need to restart your phone.
Simply restart your phone to clear temporary app bugs and return your phone's default settings.
To restart your device:
Press and hold the power button.
Tap Power off.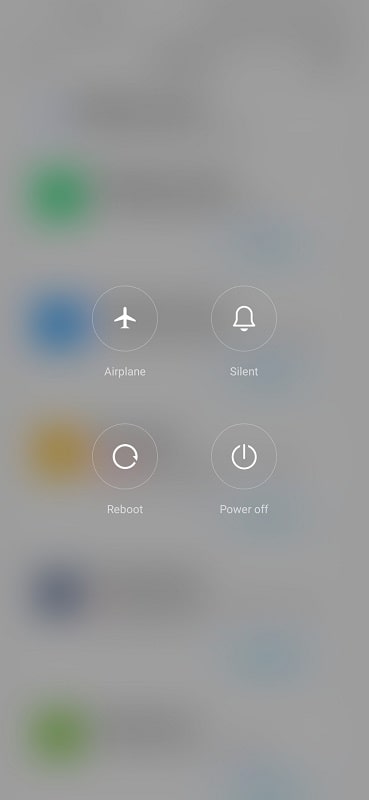 7- Force Reset your Messages App
Force reset your message app will often fix the text that says sent as SMS via a server on Android. If your device is still not sending text messages after you've restarted it.
The next thing you should try is to force quitting any applications that might be causing the problem. To do this:
Select the Settings menu.
Tap on "About Phone."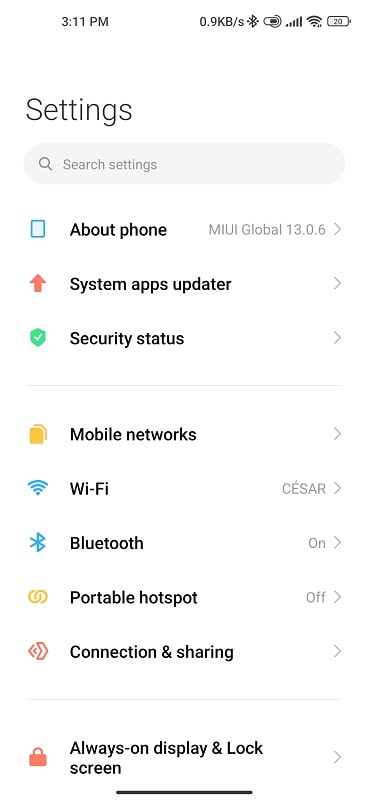 Click on Factory Reset.
Tap Erase all data.
Select "Force Stop."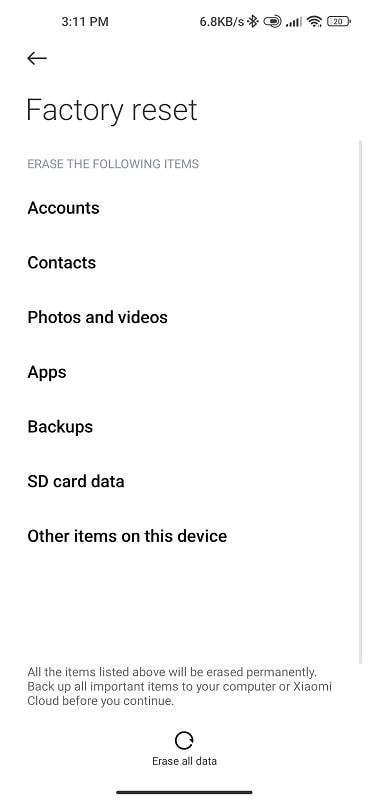 If force quitting the app doesn't fix the problem, then you can try uninstalling it. To start the process:
Find Settings.
Click "Apps."
Next, find the app you want to uninstall and tap on it.
Select "Uninstall."
One of these solutions should help fix the issue. You can continue by following the below instructions.
8- Let them know they can unblock you!
Sending a message to someone who has blocked you, there's not much you can do. The recipient will need to unblock you to receive your messages.
There are a few possible reasons why someone's phone number might block your texts. It just means that they decide to stop receiving dirty text messages from random numbers or they no longer want to communicate with you.
Whatever the reason, it's likely because they want to read your messages.
Suppose you think the person you're trying to reach would be willing to unblock you. In that case, you can contact them through another method of communication (such as social media or email) and ask them to unblock you so you can continue texting them.
If they refuse to unblock you or respond to your requests, then you cannot do much else.
It's always possible that the person you're trying to text has changed their phone number or switched to a different messaging service that doesn't allow blocking.
In this case, you can do nothing except try reaching out through another method, and I hope they'll get back to you.
9- Update the Messages App
The most important thing to do when it comes to messaging apps is to ensure they are up to date. This is especially important for the Messages app, which millions of people use daily.
One of the main reasons why it's essential to keep the Messages app up to date is the security features included in newer versions. These security features can help stop android from sending double messages and protect your text from anyone else's access.
Another reason to keep the Messages app up to date is that new versions often include new features and improvements, which is a great way to stay in touch with friends and family.
You can check if your Messages app is up-to-date by opening the Google Play Store and tapping on the Updates tab. If there is a new update available for the app, it will show up here by tapping Update.
Once updated, you'll be able to send and receive messages like never before!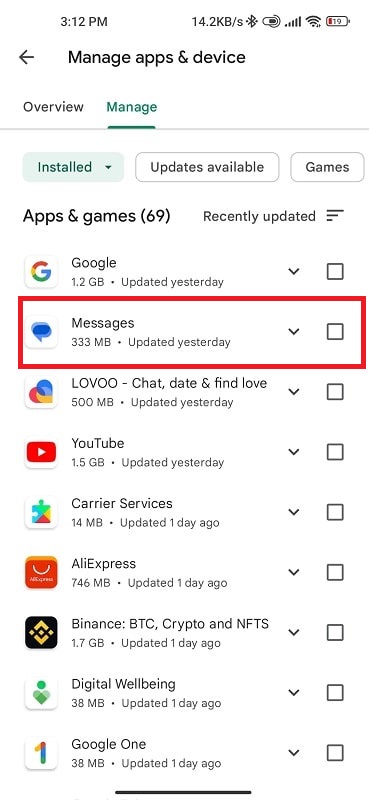 Last words
If you're wondering what those "sent as SMS via Server" messages mean on your Android phone, don't worry — we can help explain it. It means that your phone is trying to send texts through a third-party server, which can sometimes cause problems.
Luckily, there are a few things you can do to avoid this in the future. We hope this article has helped clear things up for you and given you some helpful tips on resolving the issue.
Similar topics