AASAservice is a pre-installed Android app that is exclusive to Samsung devices. The AASA service app provides notification services to Samsung users. It is also designed to notify the security policies about other apps installed on your Samsung device.
Com.samsung.aasaservice app also enhances the graphic and wizard app display. It runs in the background and it is not classified as malware that is similar to Omacp.
Most folks mistake this service with the AASA Mobile App that is downloadable and used to network public education matters. Therefore, AASAservice is something else altogether.
Samsung configures its devices with apps such as the com Samsung aasaservice android, com.sec.android.daemonapp, and rilnotifier app, all of which can drain phone battery. Besides, these apps could be culprits in consuming your data plan. That means such apps offer no discernable benefit to the user.
Many users, mostly with Galaxy Samsung devices, discover that this phone tops the list of battery-draining apps. But what exactly is the aasaservice app on your Samsung device?
Can you uninstall this app? And what happens to your device after that? Let's probe these questions and enlighten ourselves on how to troubleshoot such issues.
What Is AASAservice App on Samsung?
AASAservice is one of the core services required on your device to bring out the distinct Samsung Galaxy experience. The app runs in the background and mainly notifies the user of the security policies related to other apps such as configAPK.
While it offers a critical service to your phone, it shouldn't be among the top battery-consuming culprits.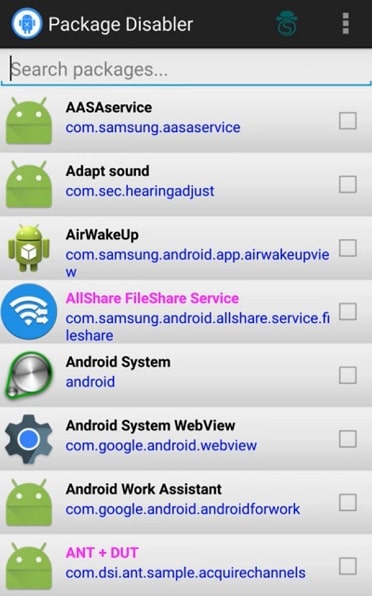 Can I Uninstall com.samsung.aasaservice?
First and foremost, aasaservice is a pre-installed app that for many devices, does not have the uninstall button. This means if are running into issues with this service, you may need to figure a way around it.
When using a Samsung Galaxy S8, for instance, you will go to settings, app, com.Samsung.aasaservice, you will realize that the "Uninstall" button isn't highlighted. Instead, all you will get is the "force stop" or the disable (enable button) button.
With that in mind, you will deduce that the AASAservice app cannot be uninstalled from the device's user interface. However, we have had suggestions (which we do not recommend) of people changing the internal encryptions of the phone to work their way around uninstalling this service.
What Happens When You Disable the AASA Service App?
As stated earlier, AASAservice provides core Samsung experiences on your device. However, it shouldn't be among the notorious battery power or data-consuming apps. Again, don't hesitate to disable or force it to stop if it turns out to risk your device's battery life,
Sometimes after installing updates, your device system cache, which Android uses to launch apps quickly, may be corrupted. If this happens, some apps may malfunction, crash, or cause the system to load slowly. These could be some of the reasons you can run into issues with the AASAservice.
The handiest shortcut is to force a system restart. However, for many users, disabling this com.Samsung.aasaservice leaves the phone running smoothly and your device battery lasting longer.
How to Disable the AASAservice Android App?
Some users have reported having issues with aasaservice soon after installing new Android device updates.
These include the app draining your power or eating into your data plan. Therefore, if you find this application compromising your experience, follow these steps to resolve the problem:
Navigate your way to "Settings" then click on "Applications".
Click on the com.samsung.aasaservice app.
Then click the "Disable" or "Force Stop" buttons – whichever applies to your device.
Clear cache on the app.
Alternative Solutions to Troubleshooting AASAservice App
As discussed above, two main outcomes are likely if your device's AASAservice malfunctions, namely:
Battery power drains faster.
The app may eat into your data plan.
You could be doing everything right but still, fall victim to these performance downgrades. In such cases, follow these alternative hacks on your phone to resolve the aasa service app.
Perform A Forced Restart
Bugs can develop if you run your device for a long time. This hack will fix them by manually rebooting your device.
It will also refresh your system and simulate a battery pullback. To try out this hack, use these simple steps:
Hold the "Power" and "Volume Down" buttons simultaneously and wait until the Maintenance Boot Mode page appears.
From the options, use the "Volume Up" buttons to navigate through the options and select the 'Normal Boot."
Wait for one and a half minutes for the restart to complete.
Perform A Factory Reset
This is one of the most effective ways to fix bugs or battery draining issues. If after an update you discover that AASAservice is draining your power, factory reset your phone.
This hack is relatively straightforward and can be performed in the following steps;
Start by backing up your vital data or applications if you are a root user.
Switch off your device.
Long-press the "Volume up" key while simultaneously holding the power key. A green Android logo will appear.
Navigate to the "Wipe Data" button using the "Volume Up" buttons.
Finally, press the power button to perform a master reset, and then reboot the system.
Reset All System Settings
This hack will cover all app and Android settings on your device. You can reset all settings in these steps;
Navigate to Apps.
Click on general management.
Tap on 'Reset settings.'
Clear System Cache Data
Android device system cache to load apps and app pages quickly. However, your device's system cache may load inappropriately during an update, causing some apps to misbehave.
In such cases, apps may crash, malfunction, or result in a system-wide slowdown. To clear the system cache, follow these steps:
Turn off your device.
Long press the "Volume Up" key and simultaneously long-press and the power button.
When the green Android logo will appear, use the "Volume Up" button to navigate to the "Wipe Data" option.
Use the power key to select and perform the master reset. This will clear the cache and reboot the system.
Install App Updates
Some apps are dependent on other core applications to run smoothly. And more often after a major system update, your device may malfunction or have a system-wide slowdown.
To bypass this issue, ensure all apps installed on your device are up to date and compatible with the latest OS version.
App developers and publishers strive to minimize incompatibility issues with operating systems as much as possible.
However, some apps aren't always maintained or cared for. Therefore, users are advised to regularly check and install updates for all apps.
Final Thoughts
The AASAservice or com.samsung.aasaservice is a built-in program app exclusive to Samsung devices. It functions to notify the user about the security policies of applications installed on their device, and offer a distinct experience.
Whereas this service is like a KLMS agent and it's important, some users often run into issues with it. For example, some discover that it eats into their data plans, while others say it among those apps that consume the most battery power.
These are all good reasons why more often than not; users wish they could be able to uninstall or work around this inbuilt AASA service app. That said, the app cannot be uninstalled since it is a system app that comes pre-installed in Samsung devices.
However, you can troubleshoot aasaservice issues by employing the above-mentioned hacks and bring your phone back to normal function. In case the methods fail, don't hesitate to visit the Samsung service center. The high-tech experts will advise you on how to deal with the issues in the future if they reappear.
Author recommendations