This article highlights what com.sec.android.daemonapp is used for and what you can do to correct it when it stops working on your android phone.
With the ever-growing technology. People who are not IT informed become more aware of the outworking and mechanisms used in tech development, such as backend products.
Many people globally use android devices whether they are tech savvies or not. Their interest is not just for calling, texting, and listening to music. But they also want to know how the process works.
People are today more informed and curious about default built-in packages such as com sec android daemonapp or Rilnotifier that android apps use when they function.
Therefore, technical terms that are only known to tech gurus are today familiar to many due to free documentation and available resources for the public through the internet.
What is com.sec.android.daemonapp used for?
Com.sec.android.daemonapp is found for any Samsung android device as a package of unified Daemon. Looking at its name, com sec android daemonapp is a system that contains several applications. This system entails apps that show stock news, news, and weather applications on your android device.
Com sec android daemonapp collects data from Google, Yahoo News, accuweather.com, and Yahoo Finance to supply your phone's respective applications.
Other apps that may also get some data from this system are camera, clock, Briefing app, alarm, and any other weather apps. Whenever you use an in-built widget or weather application, these applications call com sec android daemon app.
This system then transfers the relevant data to the weather widget displayed to you on your device screen. This system also updates just like the ConfigAPK app depending on how you set it.
If the system is set to update regularly. It consumes additional data, thus prompting Daemonapp to continue running in the background. Fortunately, most weather application is set to update after every three hours.
What Is The Difference Between Service and Daemonapp?
The term service on android refers to software operating and mobile management in the background of system user interface.
Unified Daemonapp does not exploit a Graphical user interface (GUIs). It responds to signals from other applications on issues involving inter-process transmission tools. It can be said to be what the server renders.
On the other hand, an Android daemon is a background app that runs without communicating with other applications. As such, is known as a non-interactive app.
There is an inter-relation between mobile services manager and Daemonapp since sometimes these terms are used interchangeably and are of the same entity.
Interestingly some of Daemon's actions and APIs are also called services. Nevertheless, Daemon is an app that runs uninterrupted in your device's background.
What Does The Unified Daemon App Do?
The unified daemon is an in-built app such as com.sec.bcservice in your Samsung device and function by providing needed support to other applications such as Yahoo news and finance, and weather.
For these apps to access relevant data that the user is requesting, they need to call a daemon application running in the background. Some of these apps require internet for operation, such as fetching weather data, explaining why these apps sometimes take in more data than expected.
How can I control or stop the daemonapp from using my mobile data?
Your setting on the frequency of updating the daemon application and com sec android daemonapp system determines the amount of data usage. If the app uses many mobile data, you can reduce or stop frequent automated updates via the com.android.settings app (settings).
You will need to lower its refresh rate, or you can set the app to only update on active Wi-Fi to help you save on data. The steps below will help you change the update frequency.
Open Settings on your mobile device
Identify data usage and click it.
Scroll down to "Unified Daemon" in the provided list
Tap on its Data usage and then click on "Restrict Background Data" and then OK.
This procedure will stop the app from consuming data in the background, and it will only update when connected to Wi-Fi.
How To Disable Com.sec.android.daemonapp?
Since this com sec android daemon app comes in-built into your Android phone. You have no right to uninstall it unless you have root access. If the app is consuming too much data and also loses a lot of space. Disabling it will suffice through the following steps:
Open the Setting application on your phone
Scroll and locate Application Manager and tap on it
Locate the "ALL APPS" section, click on it and then search and tap on Unified Daemon.
Now click on "Disable" and then click OK even if it displays an error message.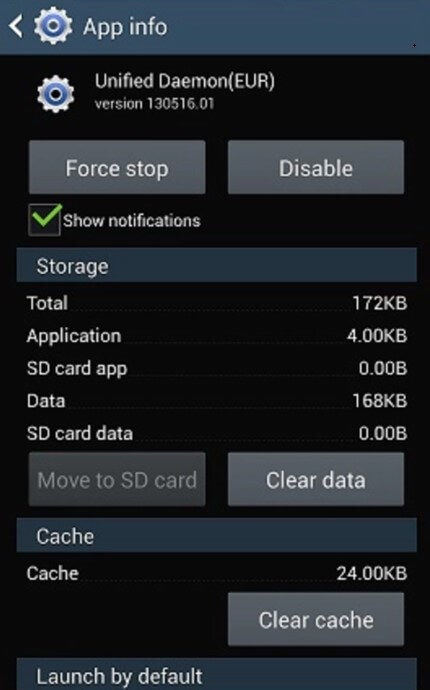 After the above procedure, the app will be disabled; however, it will start to run again if you use any application that requires Unified Daemonapp to be called for some data such as weather, Yahoo, or clock apps.
How to uninstall the com sec android daemon app?
The com.sec.android.daemonapp does not have to uninstall the option; however, you can root your device to have an administrator's right and uninstall the app.
This procedure is done using a third-party system app remover, and there are several steps for rooting the device. You can root using a computer, and there is a procedure for rooting without a computer.
Rooting without a computer
First, you will need to download and then install the KingRoot app on your phone.
Launch the app and tap on the Next button displayed on the screen until the process finishes.
It is this app that will help you uninstall the in-built app,
Rooting using a computer
Download and uninstall KingRoot software on your computer
Now go to Settings on your mobile device, then scroll to Systems, click on it and go to About phone.
You will click the Build number continuously until the device gives you the message saying you are a developer.
Turn on USB debugging and OEM and turn on the option there.
Using a USB cable, connect your device to the computer
Proceed and launch the KingRoot app on your PC, and then proceed with the rooting process. Remember that this process may take a while, so be patient with it until it finishes.
How To Fix com.sec.android.daemonapp Has Stopped Working?
This error often happens for many android devices since it comes as a package. It can be not very pleasant with constant messages on the screen. Fortunately, we bring various methods to fix com.sec.android.daemonapp has stopped working and this way also will fix the Spotify keep stopping. Try the following procedure:
Open your app drawer and tap on Settings.
Scroll to "Applications" or "ALL APPLICATIONS" if your device has multiple tabs
Then locate the Unified Daemon application or the package com sec android daemon app.
Wait for the app to open and then click on "Force Stop", if a warning message pops up about the app misbehaving, go ahead and click OK.
The error should go away, but if not, you can click on "Clear Data" to remove all cache and data from the app.
Alternatively, you can acquire root access and uninstall the daemon app. However, you should not have root access; you can perform a factory reset, which will remove all historical data from your phone. Also, it returns to its default stage when you bought it.
Before you perform the factory reset. Ensure you have backed up your Android data because all data are often permanently lost on a reset. This last resort guarantees solving the problem since any bug or malware carrying the error is wiped away.
Conclusion
We have seen in this discussion that com.sec.android.daemonapp is a package often found in Samsung devices and deals with the Unified Daemon app. The article has also shown some of the apps supported by the Unified Daemon apps, such as weather apps, Yahoo News and Finance, and other apps that will call Unified Daemon for data.
In the end, we have also seen how you can fix the problem "Unfortunately, com sec android daemonapp has stopped working". If you face any of these challenges, there is information you need to correct the situation.
View More